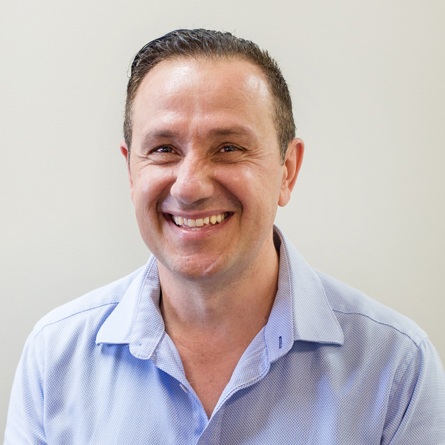 Orazio Trevisan
Chiropractor / Applied Kinesiologist / NET
Hi my name is Dr Orazio Trevisan and I have been a practising Chiropractor for 25 years. This makes me sound old but I'm actually only 49 years young.
I chose Chiropractic as my career path for the pure and simple reason that I am passionate about great health and I love to help people. Being a chiropractor has allowed me to improve the health of the people that I care for and to ultimately improve their lives.
My own health journey with Chiropractic started with some health issues that I had growing up. I suffered with repeated bouts of tonsillitis, poor immune health, lots of problems with my gut along with chronic back pain. Chiropractic was the only profession that treated the root cause of my problems and put me back on the course to better health. This ignited my passion for Chiropractic and I have been hooked ever since.
As a chiropractor, I am the healthcare expert that checks the spine and nervous system regularly to make sure that there is no interference to the flow of information that keeps a person healthy and healing. As a chiropractor, I assess a persons health and create balance for their mind and body. I use gentle, safe and effective techniques that support and empower that person, creating optimal health for them and their family. The techniques that I use include manual adjustive procedures, activator technique, drop piece technique, SOT blocks, specific soft tissue releases (including ART), shockwave therapy, hypervibe (vibrational therapy), applied kinesiology, NET, nutritional supplementation and dietary analysis.
I am a father of 2 beautiful teenage girls and I have been married for almost 23 years. My main interests are in the areas of;
Family health
Children's health ( I am a qualified Paediatric Chiropractor)
Nutrition (including both dietary assessment and nutritional supplementation)
Mens and women's health (including pregnancy care)
Care of the gut (gastrointestinal tract) and its relationship to the rest of the body.
Relationship between emotional stress and its effects on the body. I use a technique called NET (Neuro Emotional Technique)
The management of sports injuries ( I am a qualified Sports Chiropractor)
The application of Shockwave Therapy to chronic soft tissue injuries
Education:
 1990 Bachelor of Science (University NSW)
 1992 Masters Degree in Chiropractic (Macquarie University)
 1997 P.G.D. Chiropractic Sports Science (Macquarie University)
2010 Masters Degree in Science (Chiropractic Paediatrics) University of Wales
2017 Certification in Applied Kinesiology
Professional Experience:
 2014 – Currently Director at Contemporary Healthcare
 1992 – 2014 Director at OG Chiropractic and Sports Injury Clinic
 Seminar co-coordinator for Motion Palpitation Institute International
 Lecturer in Structural Analysis at Macquarie University
 Board examiner for Centre for Chiropractic (Macquarie University)
Professional Memberships:
 Chiropractic and Osteo. College of Australasia (COCA)
Consultation and Assistance for:
 Australian Swimming – Pan Pacific Championships
 Australian Commonwealth Games
 NSW Institute of Sports Swim Team
 Qantas Swim Meets
 Australian Long and Short Course Swimming Championships
 Uncle Tobys, Fosters and  Nutri Grain ironman/ironwoman series
 St George Formula 1 Triathalon series
 Australian Beach Volleyball Coordinator
 Australian Coca-Cola Surf Classic Sports Medicine Coordinator
 Warringah Dolphins State Soccer League Soccer
I am a firm believer in practising what you preach. The same things that I expect from my patients, I expect from myself. To maintain my own health I follow the following principles;
Move better
I like to keep myself fit by going to the gym 3 times per week and I also walk regularly. I also receive regular Chiropractic treatment.
Eat better
I think it's really important to eat well. I try and eat a balanced diet (most of the time) consisting of plenty of fresh vegetables, fruit, healthy fats, seeds and nuts, quality protein. I also try and avoid gluten, dairy, sugar and as much processed foods and artificial additives as possible. I take nutritional supplements regularly.
Think better
I have regular NET (Neuro Emotional Technique) appointments. Balance in all aspects of life is important. I try and keep a healthy work-life balance. Spending time with family is important. I also believe that it is important to make time for the things that you enjoy doing. A healthy mind goes a long way to achieving a healthy body.
Contact Orazio